Lifestyle
I am determined come what may to build National Cathedral — Nana Addo
He made this known at a prayer service at the Jubilee House on Tuesday, January 10, 2023, and said "I am determined, come what may, I have two more years, that whatever the case, the National Cathedral will be at a very advanced stage before I leave office. I think it is important that we do it."
"All the reasons that I've given and continue to give, there will still be critics and naysayers. I think we have to take it as they are all part of life. But it should not be a sign of discouragement to us to be able to go forward," he added.
Earlier, the Member of Parliament for North Tongu, Samuel Okudzeto Ablakwa alleged that the National Cathedral secretariat has not been transparent with the processes and procurements associated with the project.
He alleged that the secretariat spent all monies realized from a fundraiser in the United States on two symposia held in Accra.
The NDC MP in a Facebook post on Wednesday, January 4, 2023, reacting to money spent on the edifice despite the government claiming it has spent GH¢339.003.064.86 on the National Cathedral project said out of the over GH¢794,000 cedis from the fundraiser, GH¢790,000 was spent as expenditure on two Bible Museum symposia held at the Kempinski Hotel in Accra.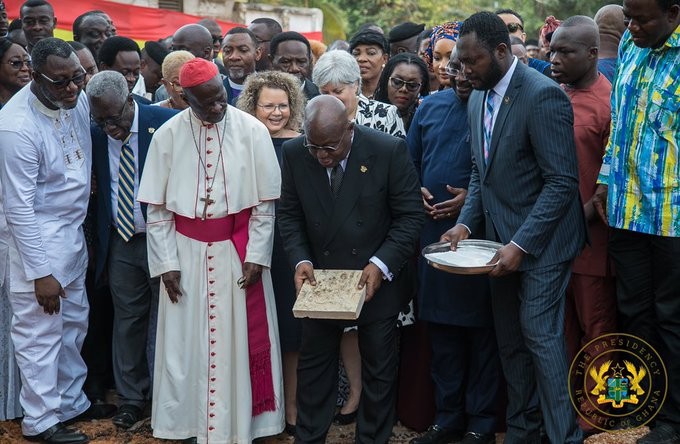 He said efforts by the Cathedral Secretariat to raise funds for the completion of the project after Parliament rejected an expenditure item for the project in the 2023 budget.
Work on the National Cathedral has come to a halt months after the project contractors RIBADE Company LTD, allegedly sacked over 200 of its workers over a lack of funds.
The site for the edifice, which is a 14.5-acre land next to the Parliament House of Ghana has come to a halt.
A letter dated March 14, 2022, signed by the project manager, Grant Ramsay, making rounds on social media, asked all the workers to return every property in their possession to the Human Resource office.
It stated that it was only complying with portions in the contract which enjoins them to mitigate costs since they were not receiving funds for the project.
Part of the letter reads "Due to the lack of payment from the National Cathedral of Ghana which has resulted in the project being suspended, RIBADE COMPANY LTD is required under the contract to mitigate costs."