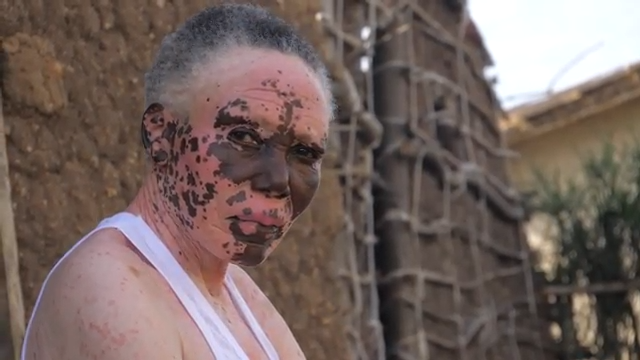 Sometimes, our skin is one thing that really defines our physical appearance because it sometimes portrays where we are actually from.
Before our skin color will change, some particles of the skin may be damaged or may not be functioning effectively.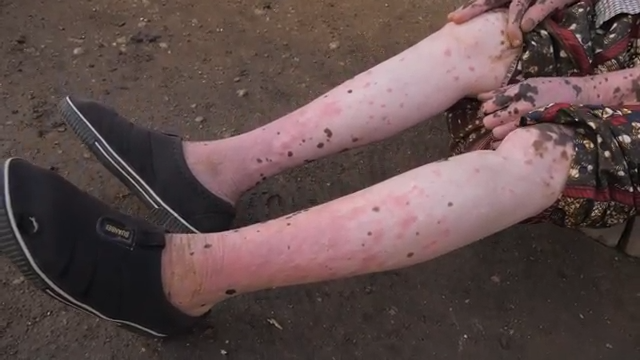 This woman is one of the few oldest people suffering from this kind of skin condition. Her relatives and friends are afraid to get close to her because they think her condition might be contagious. This woman is so strong and it is hard to believe that she is 75 years old. She says the secret behind this was milk.
Grandma's condition is identified as vitiligo, which is a skin condition where the cells responsible for producing pigment within the skin die off and kills the hair that protects the body against sun rays. This condition is fairly common affecting 0.5% to 1% of the world population. This condition can affect people in similar frequency irrespective of the race but it is more noticeable in people with dark skin.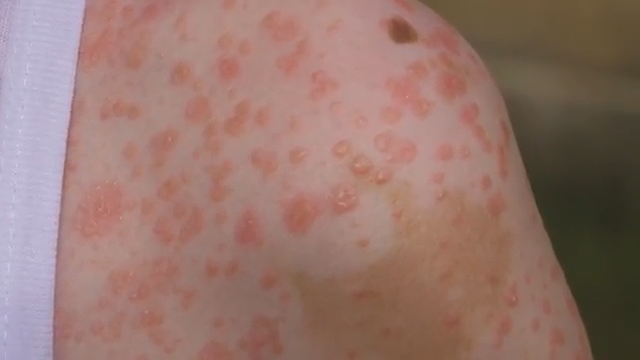 Let us listen to Grandma as she tells her story; "I was born normal like anyone else but my skin started turning white in 2005 and I am 75 years now. This skin condition just brought itself up here. There is nothing that I can say triggered this. One morning, I woke up and found myself this way. At first, it was some small perches and I could see my black skin going away and turning off. At that time, my forehead, mouth, and waist but later, the skin perches began to spread around the whole body."
"People find it difficult to figure me out especially those who knew me before 2005. Whenever I show my ID to people, they become confused and look at me twice. It is so hard for me to explain to these people what changed or caused my skin condition. After being sick, my whole body turned into something else. I tried visiting traditional doctors to see if something could be done about it. I was given herbs to apply on my skin but they were not productive. I had the idea to visit local hospitals but because of my financial situation, I decided to stay home because the bill was not affordable to me."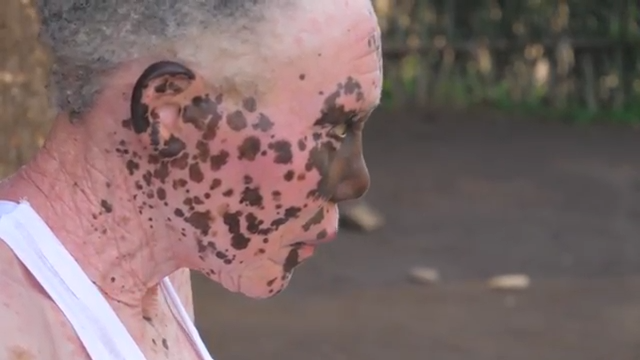 "When my condition first started, it looked like Milesima but I was wrong but now, I think of it being something else like vitiligo. None of my family members has ever suffered this condition. The only way people of my community make meaning from this skin condition is through poison and witchcraft. Now, I know their meanings were wrong because I am in such a condition."
"Since having this skin condition, my body has experienced so much painful sunburnt. My body is always weak and suffering from other diseases. I am always feeling cold. Initially, I was always feeling the heat in my body. My body is no longer resistant as it used to be and all these have brought a negative impact on my health condition but now, it has changed from upside down. I do not know what treatment to use so that my body will come back to normal. Before I could not even dare to come under the sunshine but now I am always cold."
"Ever since I suffered from this skin condition, I have lost a thousand friends. I started losing them one by one. I thought they were real friends but turned out to be none after my condition. They thought my condition is contagious and they fear having the same disability. I was so shocked to see my relatives and friends abandon me yet this was when I needed everyone by my side and show love to me."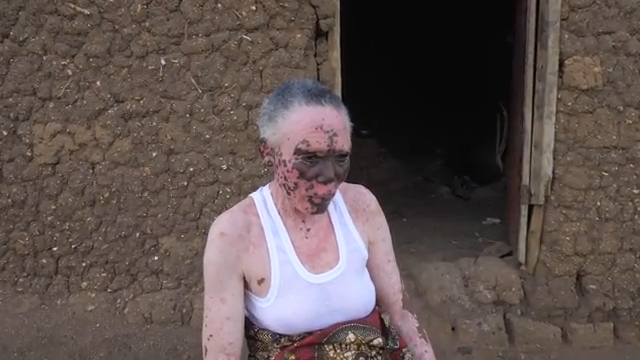 "Despite life adversities, I am grateful for the gift of life. I thank the Lord for granting me life and my heart will always rejoice in thankfulness because I am strong and have to be in this condition for 16 years. God has blessed me with plenty of children and grandchildren. I thought with my skin condition, children will be afraid of me but they are not, instead, they gather around me and play with me."
"My skin condition keeps worsening every day. I thought at a certain period in my life, my life things will get better but it is over 10 years now and it increases day in and out. I wish people will help me seek advanced treatment so that my body will return to normal."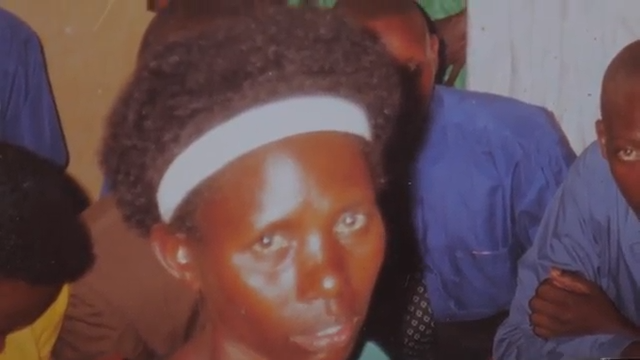 This is a very sad story from Grandma indeed.
Let us take a look at the video below;