The situation we sometimes find ourselves in truly makes us think that there is no future ahead of us or we do not have any good life which can help us succeed in this life because of the obstacles that really stops us from doing certain things in this world.
Each and every mankind was born with a purpose and this comes with a destiny that really portrays the kind of things one will be doing when the right time approaches.
God did not create mankind to suffer but for a special purpose, so if one is facing all sorts of troubles and problems and that really means that there is something wrong somewhere. But in all these, one should not allow all the circumstances to bring him/her down or discourages one from going forward in life.
Today our focus is on a 75-year-old man called Joseph who has seen it all in life but never allowed what he went through to pull him down or discourage him from going forward in life.
After having a conversation with his parents many years ago, they made it known to him that he was born as normal as any other human being and he could walk perfectly and normally without any problem attached.
He was later infected by a very dangerous and serious sickness which made him disabled because the only way for him to survive that disease was by an operation and if not that, he will surely die. So after the operation, he could not walk anymore and lost his senses as well.
After all thee, Joseph came back to his senses when he was a child but he found himself crawling, he thought it was normal until he saw his fellow children walking on their feet, he felt so heartbreaking and worried.
Due to his disability, other young mates ignored him several times and did not want to get closer to him because of how he looked like.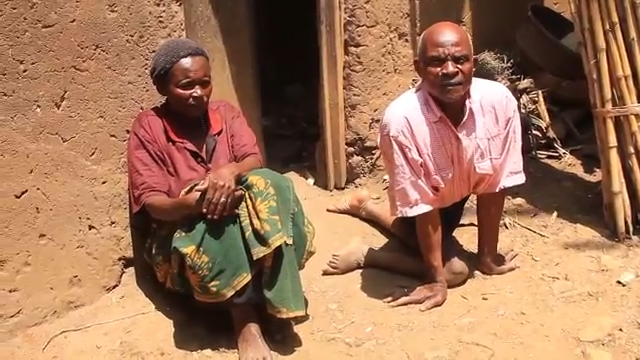 He was born along with 10 other siblings but according to him, 8 of them are no more. He currently does not know the whereabouts of his family but that did not bother him at all so he decided to move on despite not being able to walk.
According to Joseph, his parents built a house made with leaves for him because they realized that things were really going to be very difficult for him because of his condition.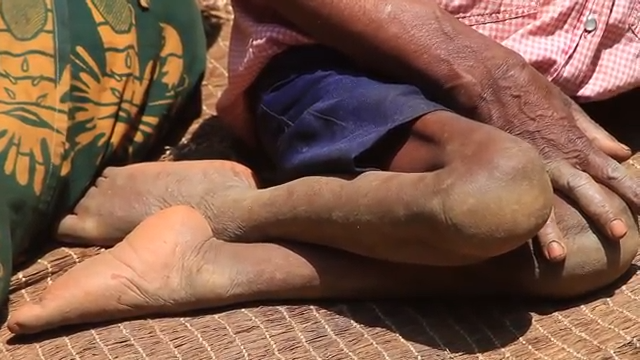 So it always becomes a disaster for him whenever it rains because of how the house looks like.
Joseph lost his parents as a disabled child where his family was always worried about how he was going to make it in life, he was also worried as well.
According to Joseph, it bumped into his head that he should wake up and do something for himself, he then woke up and decided to go to the city to beg for money, he was seen sitting on his legs in front of churches and other place begging for money. Many people had sympathy for him, they gave him coins and he did not spend anything from that coins, he kept all the coins and took them back to his village to build himself a house made with mud which was better than the one built for him by his parents.
Despite his situation, people thought that it was impossible for Joseph to have a wife but surprisingly, he got married to a certain beautiful woman with whom they gave birth to 10 children including beautiful daughters and handsome some who were all normal without any problem but so unfortunately for him, he lost all the 10 children and his wife to death.
He was also blessed with another wife who was his second wife, she goes by the name Beatrice who he is happily living with.
The life of the 75-year-old man has been like a disaster but he keeps going and making sure that he survives every challenge that comes his way. 
Let us watch the video below.